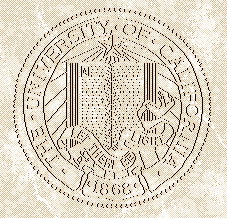 George H. Fisher
Space Sciences Laboratory # 7450
University of California
Berkeley, CA 94720-7450
U.S.A.


 
Phone: (510) 642-8896
Fax: (510) 643-8302
email: fisher@ssl.berkeley.edu
vita:


An image of the Sun viewed in an FeXII line formed at temperatures of 106K. The image was taken from the EIT telescope on the SOHO spacecraft on Aug. 26, 1996. It shows a large active region (the bright area toward the lower left) and a coronal hole (the dark irregular shape) extending from the north pole to an area adjacent to the active region. Magnetic fields in coronal holes are open and the plasma can escape freely, while magnetic fields elsewhere are closed, trapping the hot plasma.
Current Images of the Sun
RESEARCH INTERESTS
The physical origin of magnetic fields on the Sun and other cool stars remains one of the most important, yet least understood phenomena in astrophysics. It is also a timely research topic, since it is now known that magnetic activity changes the Sun's luminosity and ultraviolet flux, both of which may have significant effects on the terrestrial environment.
In our research group, we investigate a number of topics relating to the emergence of magnetic flux on the Sun and its consequences, including the formation of active regions, heating of the Solar corona, and the origin of Solar flares. We use both theoretical and observational approaches in our studies, including analytical work, numerical simulations, and the analysis of exciting new spacecraft data, such as that from the Soft X-ray Telescope on the Yohkoh spacecraft, and from the SUMER UV spectrograph on the SOHO spacecraft. The detectors for several of the instruments on SOHO were built by members of the Experimental Astrophysics Group (EAG) here at Berkeley.

RESEARCH SUMMARY: 1997-1998
Recent Talks:
Recent Publications:
Other Solar Group Members:
Chris Johns-Krull, Bill Abbett, Jim McTiernan, Mark Linton, (now at Naval Research Lab), Dana Longcope (also Montana State University), and Tod Woods (also LLNL).

Outreach Material on Sunspots and Solar Activity
OTHER SITES AT SSL:
SSL HOME PAGE
SPACE PHYSICS RESEARCH GROUP (SPRG) HOME PAGE
EXPERIMENTAL ASTROPHYSICS GROUP (EAG) HOME PAGE
SUMMER FELLOWSHIP PROGRAM